First Place Greenville Drive Back at Fluor Facing Greensboro Grasshoppers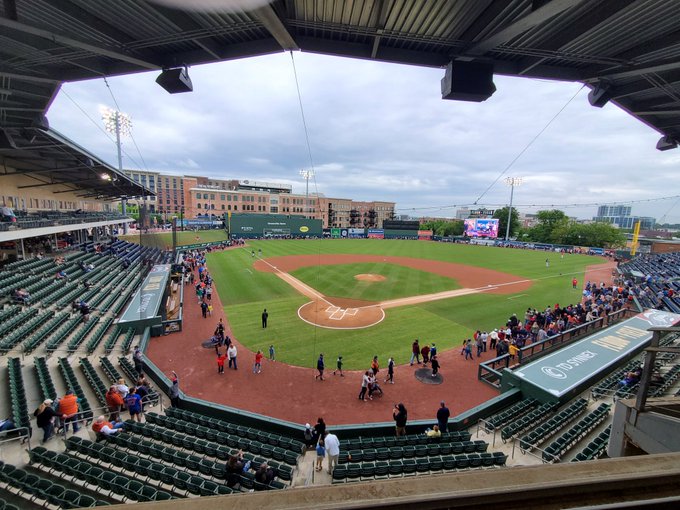 Read Time:
2 Minute, 1 Second
The Greenville Drive (32-25) head into a huge week series matchup with the Greensboro Grasshoppers (31-24) in a battle for the top spot in the conference. The Drive put Juan Encarnacion on the mound vs Bubba Chandler for the Grasshoppers, several new faces will be on the Drive lineup including CF Roman Anthony. A low-scoring, tied game early would ultimately turn against the Greenville Drive (32-26) on Tuesday night as the Greensboro Grasshoppers (32-24) exploded for 11 runs across the sixth, seventh, and eighth innings, downing the Drive 12-2. The 'Hoppers would ultimately tag Greenville pitching for 14 hits, while the Drive would 13 on base while going 2-for-14 with runners in scoring position.
Back at home! For those inclined to follow those sorts of things, check the lead-off spot. 👀

🕖 7 PM
🆚 @GSOHoppers
🏟️ Fluor Field
📺 @ballylivenow
📻 https://t.co/eTsSvT3d9j pic.twitter.com/GIfYUnTCuF

— Greenville Drive (@GreenvilleDrive) June 13, 2023

As you'd expect from two teams at the top of their respective divisions, a tightly contested affair ruled the night early at Fluor Field. Each team recorded a run in their half of the first inning before each starter, the Drive's Juan Daniel Encarnacion and the Grasshoppers' Bubba Chandler, settled into the game.
First Greenville at bat for Roman Anthony, first Greenville hit!

Double to the gap! pic.twitter.com/de2QzzIgY4

— Greenville Drive (@GreenvilleDrive) June 13, 2023

The 'Hoppers would get theirs on an groundout to third before the Drive responded with an RBI-double from Blaze Jordan. Jordan's double scored newly called-up Roman Anthony who earlier in the inning notched his first hit as a member of the Drive with a double to the right field gap.
Blaze Jordan RBI-double knots the game!

Drive 1, 'Hoppers 1 pic.twitter.com/ipN8eoSC2w

— Greenville Drive (@GreenvilleDrive) June 13, 2023

Neither team could muster much offense early, though their were chances. Greenville would leave seven on base through five innings while the 'Hoppers left five aboard. The Drive were the only team to have a hit with runners in scoring position through five innings, though they'd be 1-for-7 with Greensboro 0-for-7.
Greenville County Schools employees are enjoying a well-deserved and fun-filled evening celebrating the end of this school year! Thank you @GreenvilleDrive for making GCS Employee Appreciation Night special for us! pic.twitter.com/5CejTslE7i

— Greenville County Schools (@gcschools) June 14, 2023

But as the relievers entered the game, it'd be Greensboro who thrashed their way to victory. The Drive's Aaron Perry, recently returning from an extended stay on the injured list, struck out the first batter he faced, but it'd be trouble from there. Four straight singles, would score two 'Hoppers making it 3-1; chasing Perry from the game after just 15 pitches.
How many times does he have to teach you this lesson? Rosario catches another one stealing.

We're still knotted, 1-1 at Fluor Field. pic.twitter.com/FZVV6UBby6

— Greenville Drive (@GreenvilleDrive) June 14, 2023
Bryan Gonzalez chips in an RBI in the bottom of the ninth. We'll draw a run closer.

Greensboro 12, Drive 2 pic.twitter.com/zsSJSPO8zY

— Greenville Drive (@GreenvilleDrive) June 14, 2023

Credit: milb.com/greenville