Girls 4A Upper State Championship Wade Hampton vs North Augusta High School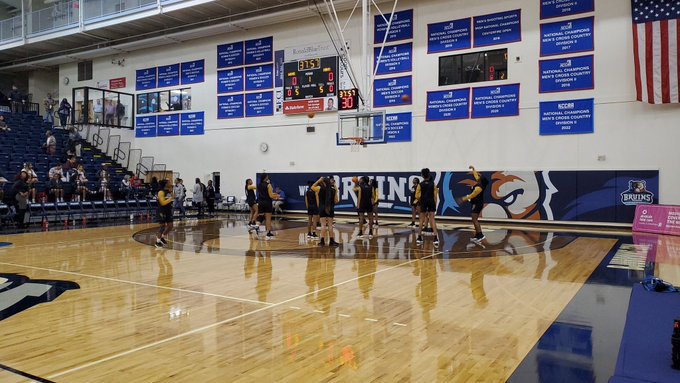 Read Time:
1 Minute, 59 Second
It's a heavyweight battle for the 4A Upper State Girls Basketball title, on the line between Wade Hampton and North Augusta. Wade Hampton comes in at 20-5, 7-1 Region 2 and beating Eastside to get into the title game. The North Augusta Girls went 24-3 and went 8-0 in Region 4 4A basketball, and defeated Pickens on Tuesday to get to this game. This game has all the makings of a shootout.
Boys 2A Upper State Championship Game is Ready to go! https://t.co/quQNC7hM7P has it covered. @SOTGsmoke @Carlito25Way @DaFanBoys_ @DaFanboys @BradCSCast @SCHSL pic.twitter.com/vMaDVePWjL

— Greenville Sports Media (@FaLcOn24729118) February 24, 2023

We start out the game with North Augusta winning the tip off and they get a shot in and a foul, and it is 3-0 with Wade Hampton going done and getting the foul to get on the board with a free throw. North Augusta gets 2 and it is 5-0 with both jockeying for the ball, with North Augusta getting another shot in and its 7-1. Quickly Agusta gets a foul and Wade Hampton is back on the board getting a shot in and its 7-3 as they fight for the ball going out with Wade Hampton getting a shot in and we have a ball game again 7-5 with 3 minutes left. North Augusta gets a huge 3 point shot in plus the foul. Its 13-5 then Wade gets a 3 to make it 15-8 with Augusta getting a shot in. North Augusta gets another shot in and its 17-8 with under a minute to go. With the ending of the first period its 17-9 as both teams get ready for the 2nd period.
— Team DaFanBoys (@DafanboysC) February 24, 2023

As we go into the final 2 minutes of the game its a shot for shot game as we are tied at 25 all. North Augusta tries to take the lead but instead fouls as Wade Hampton takes the ball down and misses. back goes North Augusta who misses as Wade Hampton gets the ball down and gets a 3 to drain and goes and gets another shot in, its 30-25 with 25 seconds left and North Augusta fouls and 24 drains the first free throw, then the second misses with 10 to go before the half, they loose the ball leaving Wade Hampton time to score quick and its Halftime as we sit 31-25 Wade Hampton Leading!