Greenville Triumph Secure Playoff Spot with Draw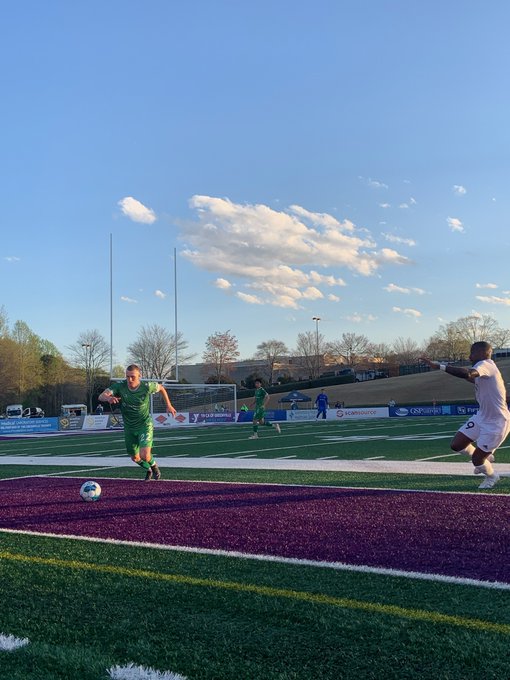 Read Time:
2 Minute, 8 Second
Chattanooga, TN (October 7,2023) – Triumph forwards, Jacob Labovitz and Leo Castro netted second-half goals to help Greenville clinch a playoff berth with a 2-2 draw at the Chattanooga Red Wolves in the club's second-to-last match of the 2023 regular season on Saturday night. Greenville's draw, combined with a loss for South Georgia Tormenta on Saturday, secured the postseason for the 2020 league champions. With the clinch, GTSC became the only club to earn a postseason berth in all five seasons of League One soccer.
Here's your Greenville Starting XI for tonight! 👇#CHAvGVL pic.twitter.com/VBz3iQWr1o

— Greenville Triumph SC (@GVLTriumph) October 7, 2023

The match got off to a challenging start when Chattanooga took an early lead in the 10th minute. A perfectly deflected ball found its way to Jonathan Filipe, who curved the ball it into the upper right corner of the net just out of Jared Mazzola's reach. Greenville struggled with turnovers, allowing Chattanooga to exploit their mistakes and threaten on the counter. Throughout the first half, Chattanooga maintained control while Greenville lacked an offensive presence, failing to apply any substantial pressure on the goal. Chattanooga struck another blow in the 28th minute when Ropapa Mensah capitalized on a defensive lapse, finding himself unmarked in the 18-yard box. Mensah quickly added a second goal for Chattanooga, putting them ahead by two.
Are you ready for ✌️ more matches?!

👉 @ChattRedWolves vs. @GVLTriumph
👉@Tormenta_FC vs. @Union_Omaha

— USL League One (@USLLeagueOne) October 7, 2023

As the teams headed into the second half, Greenville implemented a complete 180-degree turnaround aided by the rotation of two substitutions. The 53rd minute saw Jacob Labovitz break away on a counterattack, scoring from the slightest of margins and bringing hope to the Greenville faithful. The momentum continued in the 61st minute when Leo Castro equalized, converting a well-placed cross that managed to slip through the defensive lines.
Brandon Fricke reaches 1️⃣0️⃣0️⃣ appearances for the Triumph with his start tonight! 🤩 pic.twitter.com/QBvonQKS73

— Greenville Triumph SC (@GVLTriumph) October 7, 2023

Greenville, fueled by their newfound determination, pushed for a potential victory, but they eventually settled in the final minutes by making defensive substitutions to secure the crucial draw.
Jacob Labovitz and @GVLTriumph respond to halve the deficit in Chattanooga ✂️

#CHAvGVL pic.twitter.com/mJwiRkHAWO

— USL League One (@USLLeagueOne) October 8, 2023

With only one match remaining, Greenville will look to improve its seeding and secure a home playoff match in the first round of the playoffs. A Greenville win coupled with a Charlotte draw or loss on decision would secure the home match. GTSC hosts Lexington SC on Saturday, October 14th at 7:00 PM to close out the regular season on Fan Appreciation Night.
#⃣1⃣3⃣ on the year for Leo Castro as @GVLTriumph tie it up! 👊#CHAvGVL pic.twitter.com/GpEuJZeGey

— USL League One (@USLLeagueOne) October 8, 2023
We're headed to our fifth-straight playoff appearance!

📈 Greenville is the only @USLLeagueOne club to make it to postseason competition every year. pic.twitter.com/Y7teezYI6F

— Greenville Triumph SC (@GVLTriumph) October 8, 2023
credit: khumphrey greenvilletriumph.com