Greenville Drive on the Road Versus Asheville Tourist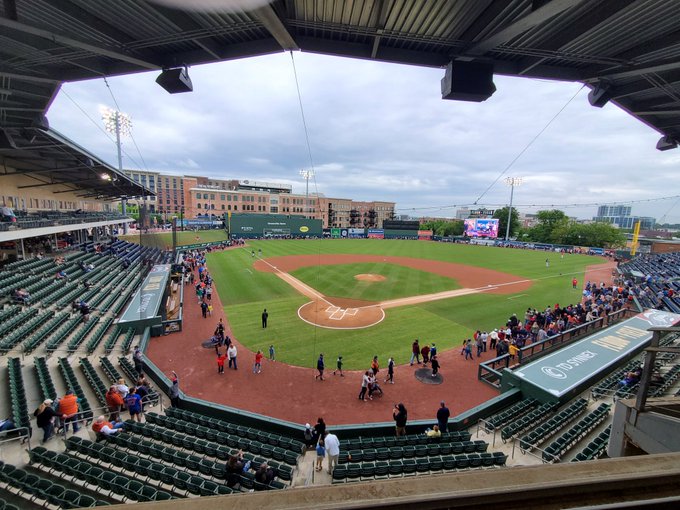 Read Time:
1 Minute, 38 Second
The Greenville Drive (37-32) are still on the road till next Tuesday as they face the Asheville Tourist (26-38) right before the All-Star break. Both teams will be looking for momentum as Greenville has already secured its spot in the playoffs, and Asheville is just looking for a way to finish off the first half of the season on a winning note.
How we're starting the series off in Asheville!

🕡 6:35 pm
🆚 @GoTourists
📍 McCormick Field
📻https://t.co/FNeNwUDNrX pic.twitter.com/dtrPuGNObG

— x-Greenville Drive (@GreenvilleDrive) June 28, 2023

Both teams come out swinging in the first inning as Greenville gets on the board first with two runs in the first inning, not to be outdone the Asheville gets two on the board also as we have a 2-2 ballgame heading into the second inning. The game stays tied till the 4th inning when Greenville scores two more runs and takes the lead 4-2. Yet, the Tourist get two runs also in the bottom of the fourth inning and its all tied up 4-4 going into the fifth inning. Once in the fifth Greenville gets two more runs and goes back into the lead 6-4, but the runs keep coming as Greenville gets 3 more runs making it 9-4 in the fifth. The Drive keep them coming with yet another score and now its 10-4 with two outs still. The Drive will get yet another run before the end of the inning and its 11-4 as Asheville finally gets out of the inning and the Drive hope to set it on cruise control after a seven-run inning.
Think you have what it takes to knock off reigning Fluor Field champ, Joe Lysek? Hungry for hot dogs?

Sign up for the Greenville Drive's Annual Hot Dog Eating Contest at the link below: https://t.co/PtbzThwZbK pic.twitter.com/mVW6r2qru3

— x-Greenville Drive (@GreenvilleDrive) June 28, 2023

Asheville storms back and is able to muster two runs in the bottom of the fifth to make the score a little closer 11-6, and we are on to the sixth inning in Asheville tonight. The game would go scoreless after that and would end with Greenville getting the win 11-6.
FINAL: Drive 11, Tourists 6

Drive blast four homers and score 7 in the fifth en route to a 11-6 win in the series opener in Asheville. pic.twitter.com/BlXc7bbMGm

— x-Greenville Drive (@GreenvilleDrive) June 29, 2023