Final 4 is Set Like We All Predicted…Right?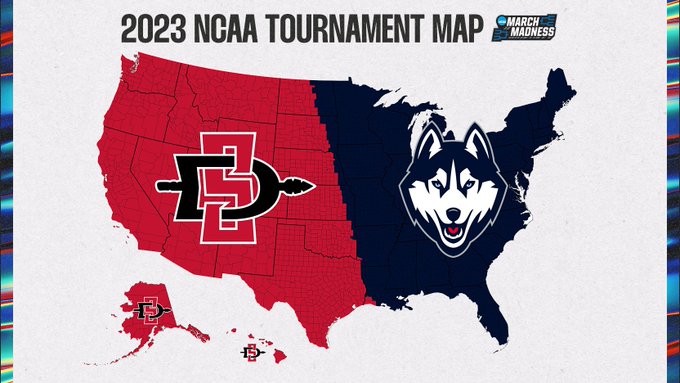 Read Time:
1 Minute, 4 Second
Just all like we predicted back in November right? UConn and SDSU will play for all the marbles on Monday night in Houston. SDSU got to Houston by beating Charleston, Furman, Alabama, Creighton and now Florida Atlantic. UConn got to Houston by beating Iona, Saint Mary's, Arkansas, Gonzaga, and now Miami.
National Championship #MarchMadness Map 🗺️

Each county is assigned to the closest remaining team in the bracket!

(via @jloose128, @redditCBB) pic.twitter.com/5pIwX4TRsJ

— NCAA March Madness (@MarchMadnessMBB) April 2, 2023

What a day it was at the Final Four in Houston. SDSU had to battle back from a 14 point deficit in the second half, to winning on a last second shot by Lamont Butler. UConn won pretty handily by beating Miami in the second game. It's somewhat hard to believe that SDSU would be in this position, because before this SDSU never won an elite 8 game or Final Four up until this past week and weekend. UConn on the other hand has been in this situation many times and most recent 2011 and 2014 both national championship seasons.
LAMONT BUTLER WINS IT AT THE BUZZER 😱

THE AZTECS ARE #NATIONALCHAMPIONSHIP BOUND 🔥#MarchMadness pic.twitter.com/2sqxu5g05j

— NCAA March Madness (@MarchMadnessMBB) April 2, 2023

SDSU/ UConn will play each other for just the second time and the last time they played was 2011 in the Sweet 16 against Uconn and on that team was Kemba Walker. Can the Aztecs get revenge and make history Monday night? Only time will tell.