Swamp Rabbits vs. Iceman Period 2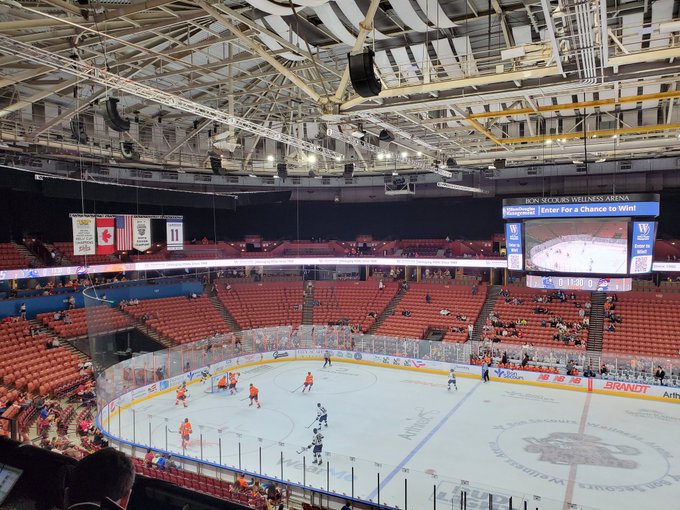 Read Time:
1 Minute, 4 Second
Greenville will have to get the goal back in this period to take the win tonight. Tonight, is also Coach Andrew Lords 200th game with the Greenville Swamp Rabbits, as we start the 2nd period, the Rabbits are attacking the goal hard as they go up 10- SOG to 6 for the Iceman. Its a timeout with 13:54 left in the 2nd period we are still 1-0 Jacksonville Iceman ahead of Greenville Swamp Rabbits.
Tonight, Andrew Lord is behind the bench for his 2⃣0⃣0⃣th game at helm for the Swamp Rabbits!

Congrats, Lordo! pic.twitter.com/5H2uqQKJN6

— Greenville Swamp Rabbits (@SwampRabbits) March 10, 2023

We came out of time out with Jacksonville comes out and scores and its 2-0 as #22 Nazarian got the assist and #10 Christopher Brown scores. As the Iceman have pulling the Goalie having 6 shooters out on the ice. So with 9:50 left in the second period the Swamp Rabbits have to get things going soon to get back in this game. With 3:31 left in the 2nd period and it's a time out.
The Icemen extend their lead midway through the 2nd.

GVL 0 | JAX 2#GVLvJAX

— Greenville Swamp Rabbits (@SwampRabbits) March 10, 2023

With 1:16 Iceman gets another score and its 3-0 #22 Nazarian with the goal and #21 Brodzinski with the assist, and we end period two with a 3-0 Iceman lead here in Greenville.
After 2⃣

GVL 0 | JAX 3#GVLvJAX

— Greenville Swamp Rabbits (@SwampRabbits) March 10, 2023