Game 1 Double Header Greenville Drive Versus Asheville Tourist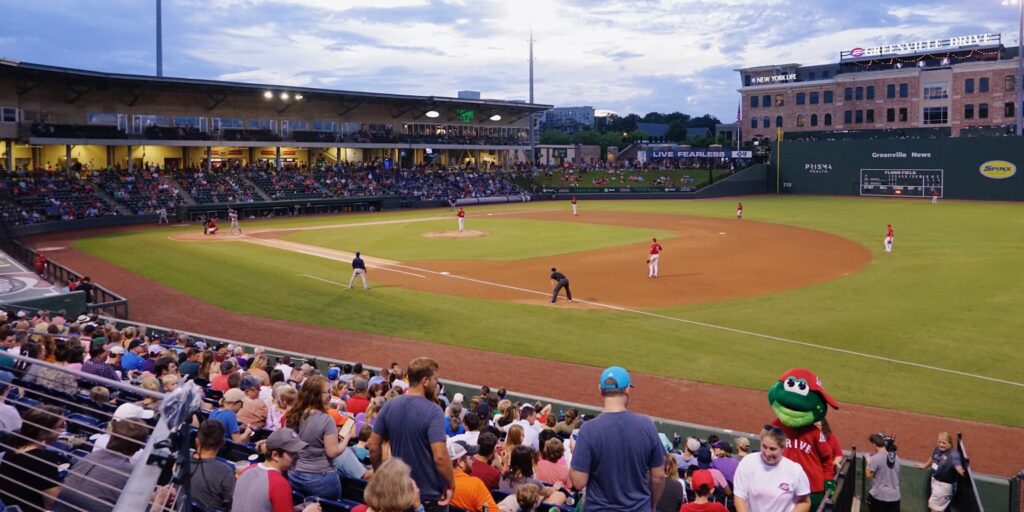 Read Time:
1 Minute, 21 Second
The Greenville Drive (46-40) head into a double header today versus the Asheville Tourist (33-48) in a makeup game from last night's rain out. The Drive put Luis Perales on the bump, while Asheville puts Valente Bellozo, with both teams wanting to get the sweep today.
Game one of the twin bill today. The lineup for Reedy's Birthday:

🕖 7:05 p.m. | 🆚 @GoTourists
🏟️ Fluor Field
📻 https://t.co/eTsSvT3d9j
📺 @ballylivenow
🎙️ @DanScottShow and @TomVanHoy pic.twitter.com/ELBzPF17kB

— Greenville Drive (@GreenvilleDrive) July 21, 2023

The Drive are having one superstar really create allot of buzz in the 19-year-old Roman Anthony who has been lighting up opposing teams with his quick hitting and great fielding.
Roman rakes. pic.twitter.com/Gdx3Q4ptLF

— Red Sox Player Development (@RedSoxPlayerDev) July 21, 2023

In the first inning the Drive starts out with a 3-run blast by Ronald Rosario over left center and it scores both Roman Anthony and Allan Castro and its 3-0 Drive in the bottom of the first.
First inning for Luis Perales in his High-A debut includes stranding two on and ringing up 2 including this inning-ending 3-pitch strikeout. pic.twitter.com/2cDIpec87u

— Greenville Drive (@GreenvilleDrive) July 21, 2023

In the top of the fourth inning the Tourist get a homerun and tighten the score to 3-1. The Tourist then in the top of the sixth inning get back-to-back homeruns to tie the ballgame 3-3. The ballgame stays tied till the top of the seventh when the Tourist get a homerun and a RBI right after that and its 5-3. The Tourist add another run to make it 6-3 still in the 7th. Another walk with the bases loaded and now its 7-3, which is followed by a grand slam and the Tourist have blown this game wide open, 11-3 in the top of the 7th inning. The game ends with the Drive losing in the 7th 11-3.