Drive Look to Rebound from Double Header Loses To Braves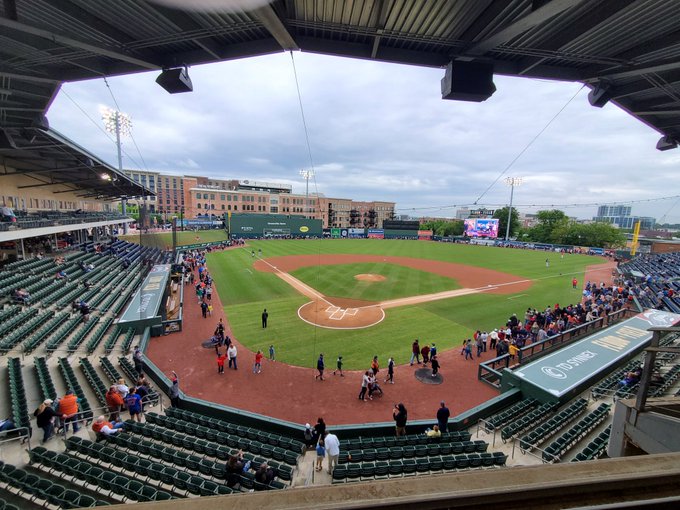 Read Time:
1 Minute, 3 Second
The Greenville Drive (41-36) want todays outlook to be not about the possible weather in the area, but instead a rebound from a 2 double header loss to the Rome Braves (36-41) tonight at Fluor Field.
(Game Thread)
You could have seen this info faster if you followed us on Threads 🤷‍♂️

🕖 7:05 p.m.
🆚 @TheRomeBraves (who are without Threads; threadbare? some might say)
🏟️ Fluor Field at the West End
📻 https://t.co/eTsSvT3d9j
📺 @ballylivenow
🎙️ @DanScottShow and @TomVanHoy pic.twitter.com/dzp5lVcP6U

— x-Greenville Drive (@GreenvilleDrive) July 6, 2023

The game stays scoreless till the bottom of the fourth inning when Lopez gets a RBI and the Drive are on the board 1-0. Nick Decker this gets a single that drives in a run and now its 2-0 Drive over the Braves here in the fourth inning.
Eduardo Lopez, sac-fly gets the scoring started here at Fluor Field!

Drive 1, Braves 0 pic.twitter.com/T4tCykFfjk

— x-Greenville Drive (@GreenvilleDrive) July 7, 2023

The Braves make a comeback getting two runs in the top of the fifth inning and tie us up at 2-2. The Drive would come back in the 6th and score a run to make it 3-2 and keep the lead till the 8th inning, as the Braves would score three runs to make it 5-3 going into the bottom of the eighth inning. The Drive would get 4 runs to take a 7-5 lead, and hold on to a 7-6 win after the Braves scored a run in the nineth inning.
FINAL: Drive 7, Braves 6

Brainer Bonaci is your hero with a two-run blast in the bottom of the eighth to give the Drive the lead. pic.twitter.com/QTvWpu8pZW

— x-Greenville Drive (@GreenvilleDrive) July 7, 2023