Year of the Rabbit Team Review and Thanks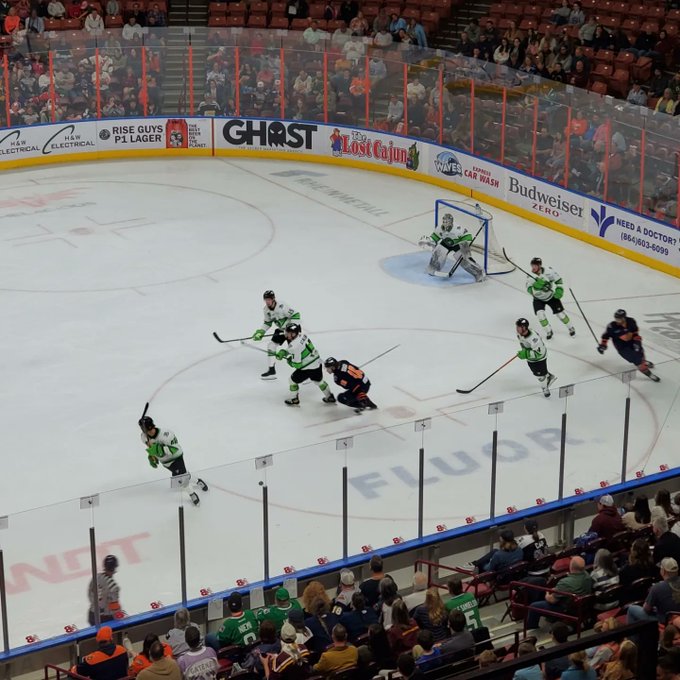 Read Time:
3 Minute, 23 Second
I wanted to write this article as a way of saying what the thousands of us Swamp Rabbit fans want to say to the players, staff, and Management team. Thank you so much for all your hard work and efforts to bring us a great season, fun times, and the gift of a great hockey team to cheer for. Yes, we are all disappointed in the overall goal of winning the Kelly Cup not happening, but we are all overjoyed at the great year we did have.
One last hoorah this Friday!

Join us for the last event of the season, buy exclusive merch and team jerseys, AND get team autographs!🐰 pic.twitter.com/rxcyOY8iR4

— Greenville Swamp Rabbits (@SwampRabbits) May 3, 2023

The year started off in great fashion, had a few bumps in the road, but the team rallied and made a great run to the playoffs for the 3rd straight year. Our Coach Andrew Lord kept the team together, fighting hard for every shot and defending our home turf, making sure our guys gave it 100%. The players, all season through the ups and downs stayed strong, played hard, and gave us some great moments.
BRETT KEMP TIES THE CONTEST ON THE POWER PLAY 🚨🚨🚨

WE GOT A GAME FOLKS 😤

GVL 2 | JAX 2#OurStompingGround#GVLvJAX pic.twitter.com/VvOVhznvzP

— Greenville Swamp Rabbits (@SwampRabbits) May 3, 2023

I also want to thank our man in the box, the Voice of the Rabbits Mark Shelley for giving us great calls to the game, taking care of all us media, and also doing this while bringing in a future rabbit fan to the world. Your entire radio team, and staff was top notch all year and gave us great calls.
Relive our series-tying Game 4 victory with our @AndersonUOnline Postgame Highlights! pic.twitter.com/O51ZxHq3JP

— Greenville Swamp Rabbits (@SwampRabbits) April 29, 2023

To our players, each and every one of you who either played on the ice, supported from the bench, or gave practice into making our team better a huge thanks. From the crazy goals to the awesome saves, the huge hits into the glass, or fighting to protect each other, Greenville is glad you were a Rabbit. I have never enjoyed a season like this one, and I'm looking forward to next season. Hoping we get to see the majority of you back, and if not, we hope it's because you're on the NHL team playing. Good luck guys over the summer!
‼️New Dasher Alert‼️

Signed by our lovely STHs on Fan Appreciation Night 🫶🏽#YearOfTheRabbit 🐰 pic.twitter.com/NWp7KbSTua

— Greenville Swamp Rabbits (@SwampRabbits) April 25, 2023

To THE WELL and its staff, as always you are the best arena on the planet. Each week giving our team the best place to play, and the fans the best place to watch. Hockey in the south will never work has always been the worst slogan, but you have given us a place to come see the future stars of tomorrow, here in Greenville. Keep up the great job, and you already know we will be back to support the team.
Home sweet home. #YearOfTheRabbit 🐰 pic.twitter.com/hjd2tI7heW

— Greenville Swamp Rabbits (@SwampRabbits) April 24, 2023

One of the most overlooked staff is the young ladies and our several MCs that kept us cheering and enjoying the game during time outs, and long season. From greeting us walking in, and walking out, letting kids be more involved, saluting our veterans, and just making it a fun environment. Thanks
Let's Go .@SwampRabbits#GameDay #YearOfTheRabbit 🐇 pic.twitter.com/cfcKj2pkd0

— Desmond Garrett (@3yearoldskater) April 21, 2023

Lastly thanks to all the fans who came out each game, some I got to know while covering the team, but each week the support I saw showed just how much this team means to our area. I know the Swamp Rabbits appreciate your support, your time, and your efforts to show the world just how much it means to have this team in Greenville. As someone who lives in a nearby town, it's great to have a team near, a team you can be proud of, a team that supports the community like you support it. Thanks Rabbit fans for everything you did this season as well.
Come see us tonight at #DowntownAlive for exclusive deals and prices on Playoff Tickets!#YearOfTheRabbit 🐰 pic.twitter.com/RQQKMrQiXW

— Greenville Swamp Rabbits (@SwampRabbits) April 20, 2023

So with that said, don't forget you can go ahead and get next seasons tickets now by going to swamprabbits.com or the box office at The Well. Here is to a safe off season for all, and a look forward into next season as we will begin a new run at the Kelly Cup