Swamp Rabbits Start Playoffs in Jacksonville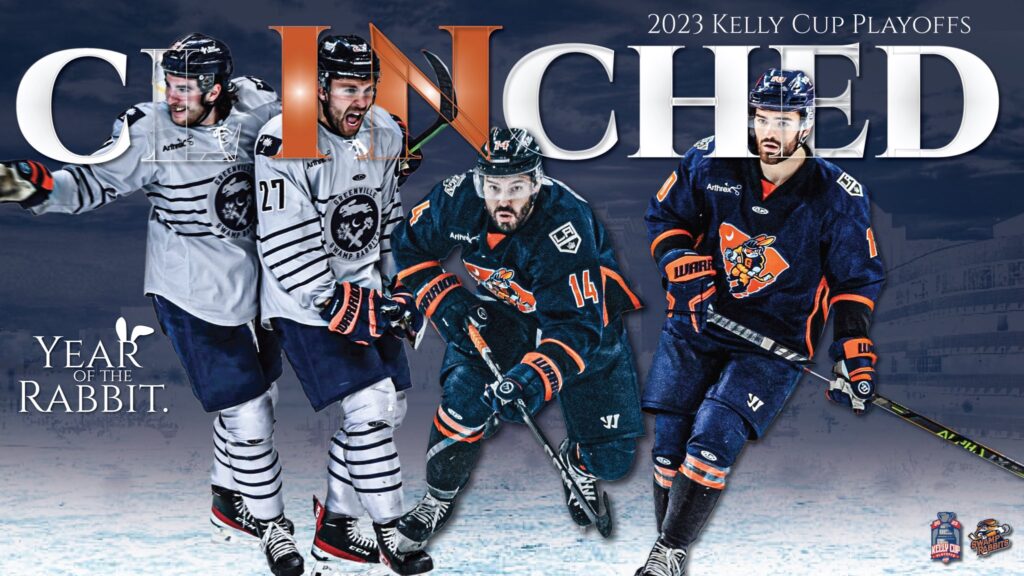 Read Time:
2 Minute, 28 Second
The press conference on Monday was full of excitement as the Greenville Swamp Rabbits has allot of great news to let the fans know in the area. The first thing was that goalie David Hrenak had moved up to the LA Kings as a 3rd Goalie on the playoff team in the NHL. The other great news was that replacing him was Ryan Bednard who was previously with the club earlier in the year. So to say the Rabbits look great in goal with Bednard and Richardson for the playoffs is an understatement. The next great news according to Coach Andrew Lord, was that the team is the healthiest it has ever been going into the playoffs, after limping into them the previous two years. He also said this team is built for a deep run, with the speed and puck presence Greenville will need to face Jacksonville.
📰NEWS: We've announced our 2023 Kelly Cup Playoffs roster

Full Roster: https://t.co/mvejP4ddRm pic.twitter.com/ahiU5MVaqa

— x – Greenville Swamp Rabbits (@SwampRabbits) April 18, 2023

Several players were on hand to discuss the trip to Jacksonville and the feel of the team. Greenville who finished 40-23-9, and for the 3rd straight year is in the playoffs goes to Jacksonville in a new playoff format, they play 2 in Jacksonville starting Friday night, then come back home for a 3 game set starting Tuesday night at The Well. They are 30-26-8 all time versus the Iceman, and last time played got the win March 18th 4-1 this year after losing the previous one March 9th 3-0. Both teams are known for fast play and a physical style, and with Jacksonville known for its forwards play. They also spoke on the Goalie communication with a shift right before the playoffs. Capp explained they get Bednard back Monday in time to practice some before Fridays game, but said with his experience it shouldn't be a issue, and also said north, south, east and west, this team is the fastest team he had been on. Left Wing Tanner Eberle said even though the scoring was not what they wanted a few weeks back, but they seemed to have caught their stride and are ready to keep on the hot streak of scoring. All three said it was very important for the crowd to show up on Tuesday through Thursday to give that electcicty the players will need to get past round one. The biggest thing is to at least steal one in Jacksonville, then finish it out in Greenville.
Coach Andrew Lord
Coach Andrew Lord Part 1@SwampRabbits @JustinGrice1@GreenvillSMedia @jdilla7791@JonSpor11 @ColeGerard4@ColbyPleasantshttps://t.co/vqXyLNAEKL

— JaY™️🐅⚾️🥎🏒⚽️🥍🏀🏈 (@JacobsTalk) April 18, 2023
Coach Andrew Lord Part 2@SwampRabbits @jdilla7791@GreenvillSMedia @DaFanboys @DafanboysC@JonSpor11 @ColeGerard4@JustinGrice1 @ColbyPleasantshttps://t.co/ylC633SvHa

— JaY™️🐅⚾️🥎🏒⚽️🥍🏀🏈 (@JacobsTalk) April 18, 2023

Forward Brett Kemp (6'0 AHL-ONT)
Forward Brett Kemp @SwampRabbits @DaFanboys@JonSpor11 @GreenvillSMedia@BradCSCast @DafanboysChttps://t.co/M0QMVr8SfK

— JaY™️🐅⚾️🥎🏒⚽️🥍🏀🏈 (@JacobsTalk) April 18, 2023

Defensive Ethan Cap (6'2 AHL-ONT)
Defenseman Ethan Cap @SwampRabbits @jdilla7791@DaFanboys @DafanboysC@GreenvillSMedia @ColbyPleasants @JustinGrice1https://t.co/f1Ksix4GBw

— JaY™️🐅⚾️🥎🏒⚽️🥍🏀🏈 (@JacobsTalk) April 18, 2023

Wing Tanner Eberle (5'11 ECHL)
@SwampRabbits @jdilla7791 @GreenvillSMedia @JonSpor11 @DaFanboys @DafanboysChttps://t.co/Cz8Txa8MTv

— JaY™️🐅⚾️🥎🏒⚽️🥍🏀🏈 (@JacobsTalk) April 18, 2023

Make sure to get your tickets today, support your hometown Greenville Swamp Rabbits by calling The Well or going online to ticketmaster.com.