College SportsCast Mock Draft Special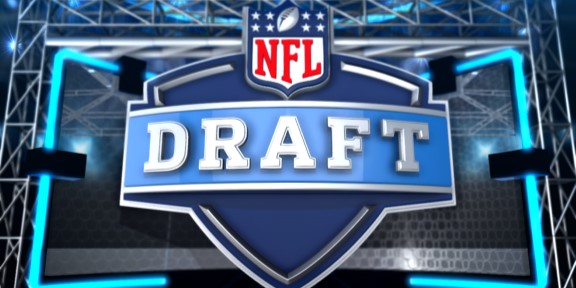 Read Time:
2 Minute, 37 Second
We recently had @MockDraftGuyYT on College SportsCast for our 2nd edition mock draft of the April 27th NFL Draft. We included trades in this one and we had 2 teams moving up in our first round. With the Carolina Panthers already trading up with the Chicago Bears for the first pick of the draft, here is a look at our complete first round:
1. Carolina Panthers – CJ Stroud Ohio St QB
Who are the @Panthers taking first overall? 🤔

📷: 2023 #NFLDraft — Starts Thursday, April 27 on NFLN/ESPN/ABC pic.twitter.com/ovgtjIWhIy

— NFL Network (@nflnetwork) April 7, 2023

2. Houston Texans – Bryce Young Alabama QB
3. Tennessee Titans – Will Levis Kentucky QB via trade with Cardinals
4. Indianapolis Colts – Anthony Richardson Florida QB
5. Seattle Seahawks – Jalen Carter Georgia DT
When it comes to NFL prospects, beauty is in the eye of the beholder. With that in mind, @BuckyBrooks spotlights 10 of the most polarizing players in the 2023 NFL Draft class.https://t.co/1KUhzOGBoF pic.twitter.com/b2LR4W6QJh

— NFL Draft (@NFLDraft) April 7, 2023

6. Detroit Lions – Will Anderson Alabama Edge
7. Las Vegas Raiders – Christian Gonzalez Oregon CB
8. Atlanta Falcons – Nolan Smith Georgia Edge
.@ScottBairNFL's newest mock is here!

— Atlanta Falcons (@AtlantaFalcons) April 11, 2023

9. Chicago Bears – Broderick Jones Georgia OT
10. Philadelphia Eagles – Myles Murphy Clemson Edge
11. Arizona Cardinals – Tyree Wilson Texas Tech Edge vis trade with Titans
12. Houston Texans – Jaxon Smith Njigba Ohio St WR
13. NY Jets – Paris Johnson Jr Ohio St OT
14. New England Patriots – Devon Witherspoon Illinois CB
15. Green Bay Packers – Dalton Kincaid Utah TE
.@BuckyBrooks ranks @Utah_Football TE @_DaltonKincaid as the #1 TE in the Pac-12 👀

📺: 2023 #NFLDraft – April 27-29 on NFLN/ESPN/ABC pic.twitter.com/2JF9eiCyXb

— NFL Network (@nflnetwork) April 5, 2023

16. Washington Commanders – Joey Porter Jr Penn St CB
17. Pittsburgh Steelers – Darnell Wright Tennessee OT
18. Detroit Lions – Peter Skoronski Northwestern OT
19. Tampa Bay Bucs – Lukas Van Ness Iowa Edge
20. Seattle Seahawks – O'Cyrus Torrence Florida OG
21. NY Giants – Quentin Johnston TCU WR via trade with Chargers
22. Baltimore Ravens – Deonte Banks Maryland CB
23. Minnesota Vikings – Jordan Addison USC WR
24. Jacksonville Jaguars – Brian Branch Alabama CB
25. LA Chargers – Bijan Robinson Texas RB via trade with Giants
26. Dallas Cowboys – Steve Avila TCU OG
27. Buffalo Bills – Jack Campbell Iowa LB
28. Cincinnati Bengals – Cam Smith South Carolina CB
Nearly all of the hay is in the scouting barn, with the 2023 NFL Draft fast approaching. It's the perfect time for @Eric_Edholm to update his ranking of the top 100 prospects — and yes, there is SIGNIFICANT change throughout the pecking order.https://t.co/VJsB4SxwNS pic.twitter.com/KA4vun8mEj

— NFL Draft (@NFLDraft) April 10, 2023

29. New Orleans Saints – Calijah Kancey Pittsburgh DT
30. Philadelphia Eagles – Jahmyr Gibbs Alabama RB
31. Kansas City Chiefs – Anton Harrison Oklahoma OT
Upon further review the SEC has 7 of the first top 10 selections. Quarterbacks dominate the first 4 picks with CJ Stroud of Ohio State taking our first pick of the draft to the Carolina Panthers. QB's Bryce Young, Will Levis and Anthony Richardson follow. Seattle takes the first defensive player in our mock draft by selecting Jalen Carter DT of Georgia with the 5th pick. Carter with his elite talent has some off the field baggage or he may go even higher.
https://t.co/OpLlHhZdRhhttps://t.co/OMn5y3BLaghttps://t.co/fwLWGxX9Jthttps://t.co/QVR3F3xgVuhttps://t.co/OCDFXmVO2Rhttps://t.co/yFfO3uxNd6

— Brad Harvey (@BradCSCast) December 12, 2022

Check out our College SportsCast 2023 Mock Draft 2.0 Edition Special with MockDraftGuy to see or hear our 2nd round. As we do a complete 2nd round on our podcast. We are on Podbean, Apple, Spotify and iHeart as audio or catch us on WSBN TV channel 30 on Apple TV, Roku or Amazon fire stick with the BoxCast app. We are also on YouTube, Facebook Live and https://dafanboys.com/podcasts/college-sportscast/
By Brad Harvey
Host of College SportsCast