Greenville Swamp Rabbits vs. Florida Everblades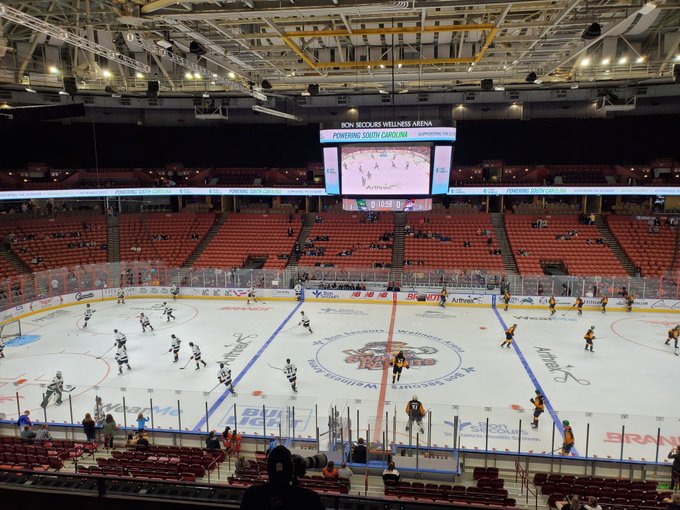 Read Time:
1 Minute, 16 Second
The Swamp Rabbits (36-20-7-1) faced off Friday night vs. the Florida Everblades (34-21-4-4) at the WELL to a great crowd celebrating Faith and Family night, plus it is also Women in Sports night as the Swamp Rabbits celebrate the first ever Woman to play NHL hockey @ManonRheaume
Morning skate ended with encouraging words from Olympic Silver Medalist and former NHL Goal Tender, @ManonRheaume

Meet and great with Manon will follow tonight's pre-game Women in Sports Panel 💪🏽

🎟️: https://t.co/5u3h1tlAxg pic.twitter.com/smNX7ttavT

— Greenville Swamp Rabbits (@SwampRabbits) March 31, 2023

The first period is a true slugfest as both teams come out hitting hard. Greenville gets 9 shots on goal to Florida getting 7 asd they are tied at 0-0 at the end of the first period. As the second half get on its way Florida comes out and gets a goal first to make it 1-0 Florida just as the period begins.
Florida strikes first just two minutes into the 2nd.

GVL 0 | FLA 1#GVLvFLA

— Greenville Swamp Rabbits (@SwampRabbits) April 1, 2023

Greenville stays the course and keeps Florida out of goal for the rest of the second Period and we end with Florida up still 1-0. Yet with 35 seconds left Greenville ties the score 1-1 on Max Martin slap shot as the fans go nuts!
MAX MARTIN TIES THE GAME WITH 35 SECONDS LEFT!!!
WE ARE HEADING TO OVERTIME AT THE WELL!

GVL 1 | FLA 1#OurStompingGround#GVLvFLA pic.twitter.com/dQmPP0VqZs

— Greenville Swamp Rabbits (@SwampRabbits) April 1, 2023

As time fades away, we are now heading to overtime at the WELL. In the end as Overtime starts, Florida gets a quick goal, and the Swamp Rabbits get a heartbreaking loss 2-1. The Swamp Rabbits will be back in action Saturday night at the WELL taking on the Savannah Ghost Pirates at 7pm, make sure you are there to support your Swamp Rabbits team!