Triumph vs Richmond Home Opener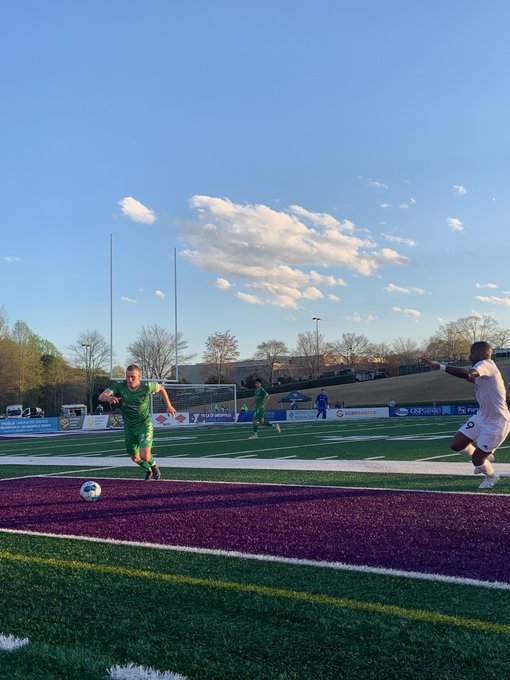 The Triumph start off their 5th season vs. Richmond and the game gets to the first 11:45 in when Richmond gets the first score of the game. With the game becoming a back-and-forth battle heading into halftime with our Triumph 0-1 to the Kickers. As we go to stoppage time here at Palden Stadium.
We're down one at the half, but there's still another 45' left!

0-1 | #GVLvRIC pic.twitter.com/j3qSaR6TaA

— Greenville Triumph SC (@GVLTriumph) March 26, 2023

The second half opens up with the two teams battle to win this game. With less than 10 minutes left Greenville has been in Richmond's area, but not been able to get the results that they want. The fans have been great for the home team, but Greenville just hasn't been able to solve the Kickers defense tonight.
@GVLTriumph ready to start the 5th season at @FurmanPaladins field. Still time and tickets left to see a great game! Game starts at 7pm pic.twitter.com/YXtDVqlN8X

— JaY™️🐅⚾️🥎🏒⚽️🥍🏀🏈 (@JacobsTalk) March 25, 2023

As time is now under five minutes to go, Greenville keeps plugging away at Richmond, the Triumph had a huge chance and missed, its the last minute, fans are cheering them on. The Richmond Kickers get the win 1-0, in front of a crowd over 2000 strong.
Greenville Triumph vs. Richmond Kickers #soccer #usl1 #dafanboys #greenvilletriumph @nursekort @JonSpor @BradCSCast@Rachel_G7 @FaLcOn24729118@SillySt11071262 @GVLTriumphhttps://t.co/XHb75kEDtV

— GSM-Jay🏒⚾️🏈⚽️🥍 (@DafanboysC) March 26, 2023