Drive Look To Repeat Winning Ways After Huge Win Versus Hickory Crawdads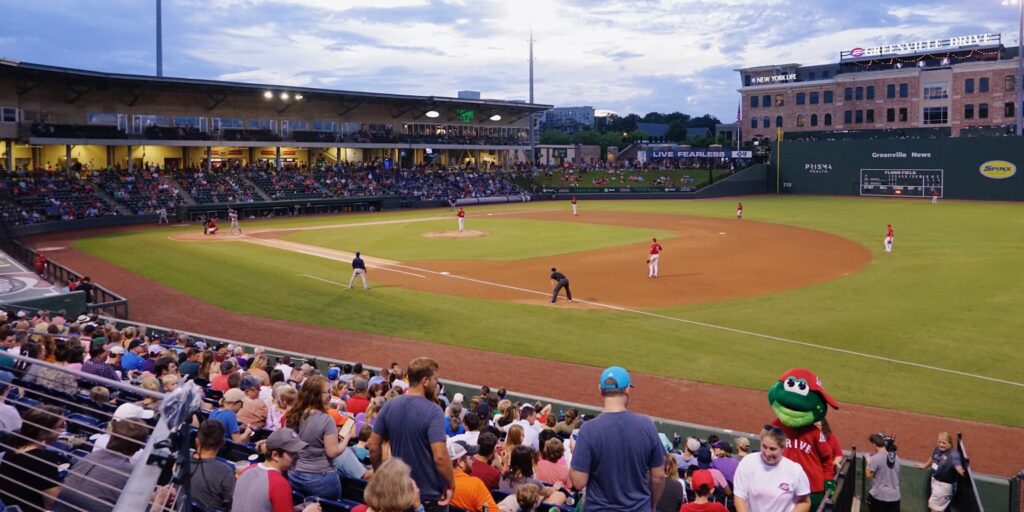 Read Time:
1 Minute, 30 Second
The Greenville Drive (25-22) coming off a huge comeback win last night versus the Hickory Crawdads (17-26) put Ace starter Isaac Coffey on the mound versus Josh Stephan in a epic battle of top pitchers for both clubs.
Game three vs. @HickoryCrawdads at Fluor Field this week!

How we're heading out: pic.twitter.com/ehYHcWXJXz

— Greenville Drive (@GreenvilleDrive) June 1, 2023

The Drive strike first when Bryan Gonzalez hits a single into right bringing in Bonaci from third. and its 1-0 Greenville with two outs and runs at the corners. The drive after 1 leads 1-0 after three hits and leaving runners on the corners. The game is still 1-0 as a true pitching duel has started with Coffey of the Drive having 5 strike outs already after three innings.
Gonzo beats the double play attempt to score Bonaci!

Drive 1, Crawdads 0 pic.twitter.com/CsxwoiNEQJ

— Greenville Drive (@GreenvilleDrive) June 1, 2023

Then in the bottom of the fifth Tyler Miller blast a homerun into center to extend the lead to 2-0 on the new pitcher brought in by the Crawdads. The Drive get another clutch single that drives in a run by Brainer Bonaci and its now 3-0 Greenville in the bottom of the fifth with one out. The Crawdads are able to get two more outs but not before the damage is done, its now 3-0 heading into the sixth inning.
The Drive in the bottom of the seventh inning get another run and its now 4-0 with a runner on second, and we have a pitching change for the Crawdads with two outs. The Crawdads are able to keep more runs off the board, but the Drive finish out the night with a shutout and win 4-0 sending the fans home happy. Here are the interviews with the two players of the game Isaac Coffey and Tyler Miller.
Isaac Coffey with 8 Ks through 6 innings and Tyler Miller with a Homerun and a great night at the plate. pic.twitter.com/UariTPooOM

— DaFanBoys & GSM (@GreenvillSMedia) June 2, 2023