Greenville Drive Face Winston Salem Dash in a Day Game at Fluor Field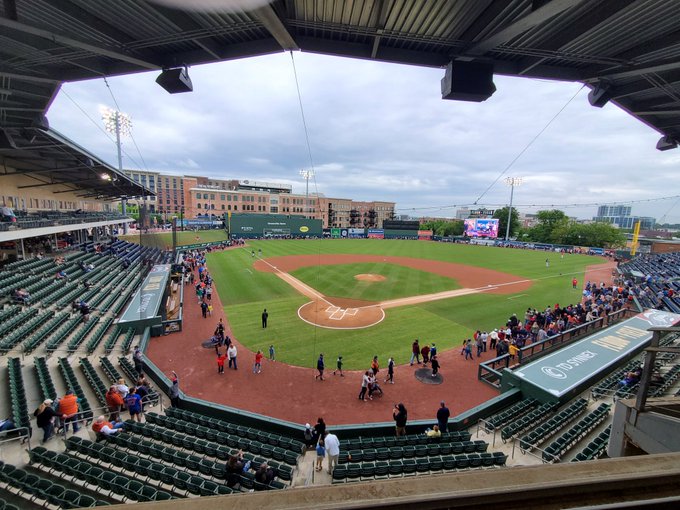 Read Time:
2 Minute, 15 Second
After last night's midnight ending game in which the Drive (12-15) lost to the Dash (19-7) 8-7, its a quick turnaround to a day game at the ballpark. Its a great crowd for Young Professionals Day and the fans are hoping for a turnaround in the win column. Max Ferguson returns to the lineup today, as does Kier Meredith with a newcomer at catcher Ronald Rosario.
Weekday afternoon baseball for the boys today!

Drive vs. @WSDashBaseball
2 p.m.
Fluor Field at the West End pic.twitter.com/KLOwE6tUca

— Greenville Drive (@GreenvilleDrive) May 10, 2023

1st Inning
The Dash get a hit with the first batter and its runner on first, and he steals second with a wild pitch and its a runner on second, and now a walk and its runners on first and second with no outs. The Drive walk yet another batter and its bases loaded with no outs. With a strike out its now 1 out and bases loaded for the next batter and he grounds to the second base gets out two but a wild pitch allows two runs and its 2-0 Dash with two outs and runner on first. The hitter hits to the SS and its a out as first as the Drive head to the bottom of the first. The Drive send Max Ferguson up and he gets walked and we have a runner on first, and up to bat is Bonaci and he backs up as ferguson gets a stolen base at second. Bonaci then hits a double and scores Ferguson and its 2-1 Dash with no outs and a runner on second, Jordan strikes out and Gonzalez is up and he backs up as Bonaci steals third base and Gonzalez walks so its runs on the corners with one out. Miller is now up to hit and he hits a line drive to the 1st baseman and its a double play and we head to the second 2-1.
Catcher Ronald Rosario nabs the runner on the steal attempt! That's how you make a debut.

Welcome to Greenville! pic.twitter.com/Gn02WZhsvj

— Greenville Drive (@GreenvilleDrive) May 10, 2023

Fast forward to the 6th inning and the Dash have a 9=1 lead, even after having CF Terrell Tatum ejected after fussing with the umpire after being called out after a out stealing second. Its now the bottom of the 6th with the Drive coming to bat. The Drive get a walk and its Bonaci on first with Jordan up to bat, and he strikes out but Gonzlez comes up and hits a triple and the Drive get a score with one out and its 9-2 with a runner on 3rd. The Drive get three more runs but it was not enough as the Dash beat the Drive 9-5 in front of the largest crowd at a Drive Game!
FINAL: Dash 9, Drive 5

Greenville and Winston-Salem are back in action tomorrow at 7:05 p.m. for round three of the six-game series. pic.twitter.com/6aArR64NLd

— Greenville Drive (@GreenvilleDrive) May 10, 2023