Drive Look to Bounce Back Versus Renegades at Fluor Field Wednesday (thread)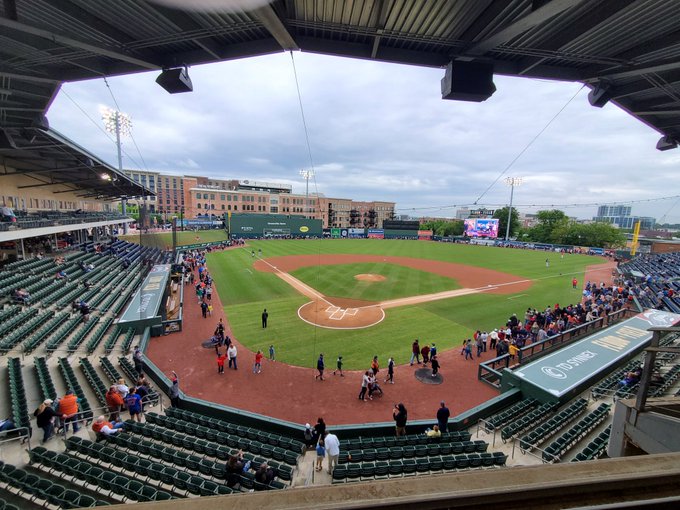 Read Time:
1 Minute, 27 Second
The Greenville Drive come into tonight's contest looking for more than a win, but pitching & hitting to meet the expectations on the same night. It is Drive fans want to see both click at the same time. Still early in the season, and lots of baseball to be played, but it still has to get to Coach Iggy to get his team on the same page soon.
Fergie!

Liner to right-center knots the game at one. pic.twitter.com/TUIOTrBtm3

— Greenville Drive (@GreenvilleDrive) April 26, 2023

The Renegades start off with 3 walks before getting a run driven and its quickly 1-0 heading into the second. The Drive in the second get a RBI from Ferguson who hits in Jordan with a blooper into center and the score is 1-1. Then in the top of the 3rd the Renegade's add 6 runs to make it 7-1, and the air is knocked out of the great crowd attending.
Lopez will knock in Ferguson!

Still some work to do as it's 7-2 Renegades. pic.twitter.com/SCBJ4ctbwS

— Greenville Drive (@GreenvilleDrive) April 27, 2023

The Drive strike back and get a run in the bottom of the 4th to make it 7-2. The fifth inning brings more hits for the Hudson Valley team as they get a monster home run to make it 8-2. Then in the top of the 7th the Renegade's get yet another homer to make it 9-2. Then once again the Renegade's get another homer, this one a three-run homer and it's not 12-2 in the top of the 7th inning. Then in the top of the 8th, the Renegades get a 4-run grand slam to make the score 16-2 as the Drive are really getting hammered tonight. The final after 9 innings, 16-2 as the Drive take a shellacking at the hands of Hudson Valley.