Drive Return Home Hoping for a Series Win (Thread)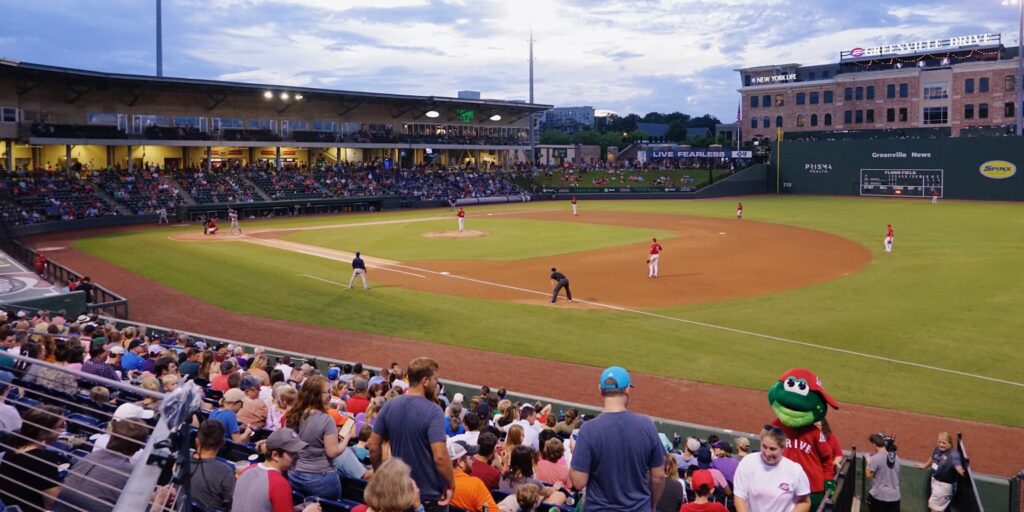 Read Time:
1 Minute, 42 Second
The Drive come home to the friendly compounds of Fluor's Feild to take on Hudson Valley and strike first with a 4-run 1st inning. The lead would stay till the 3rd inning when Hudson Valley gets 5 runs to take the lead. The Drive battle back in the bottom of the third and get a run to tie things up. Yet, the top of the fourth Hudson Valley gets another run and its 6-5 heading into the bottom of the 4th and Greenville does get some runners on base but is held scoreless. The two teams head into the top of the 5th 6-5 Renagades in front.
Blaze Jordan 🚀 moon shot. His second of the year!

Drive 4, Renegades 0 pic.twitter.com/7RyVjyUEsr

— Greenville Drive (@GreenvilleDrive) April 25, 2023

The drive shut down the Renegade's in the fifth and then turn around and get shut down and both teams are shut out in the fifth. Then in the 6th inning both teams pitch shut out ball, so we head to the 7th inning 6-5 Renegades in the lead.
https://twitter.com/GreenvilleDrive/status/1651014242810703875?s=20 to try and get out of the inning.
The Drive shut out the Renegade's in the top of the 7th inning. The Drive are able to get a score on a attempted pickoff at third, but the ball goes off into left field and the run is in and we are tied at 6-6 heading into the top of the 8th inning.
That's one way to tie it.

Hickey smacks a triple then scores on a pick off attempt after Jordan walks.

Drive 6, Renegades 6 as we go to the 8th. pic.twitter.com/keUb7YEPQ7

— Greenville Drive (@GreenvilleDrive) April 26, 2023

The Renegades are kept from scoring in the 8th and the Drive are out to get a score and take the lead but are kept from scoring and we are on to the 9th inning tied at 6. The 9th inning starts, and it just explodes on the Drive as Hudson Valley opens up a scoring bonanza with 5 runs and its 11-6 and Greenville will make a pitching change to try and get out of the inning. The Game ends and its Greenville coming up short in the late innings to Hudson Valley.