Triumph Fall to Forward Madison 4-1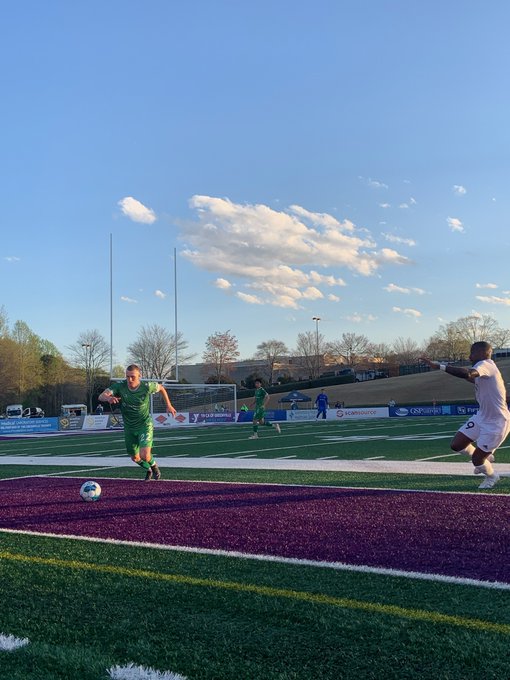 Read Time:
1 Minute, 51 Second
Madison, WI (April 15, 2023) – The Greenville Triumph extended its winless streak to four matches in 2023, falling 4-1 to Forward Madison on the road. Still pointless after three matches, Greenville sits at 12th in League standings following Saturday's match and is the only team with zero points.
Greenville and Madison both entered Saturday's match without a win this season.
Eager to capture those illusive three points, Madison quickly jumped into motion after the whistle, firing off a flurry of shots at Triumph goalkeeper, Jared Mazzola. Punching away a pair of shots in the first five minutes, Mazzola eventually conceded the first goal of the match in the 12th minute. In contrast to Madison's aggressive offense, Greenville struggled to keep possession or threaten the home side in the remaining minutes of the opening frame. To cap off the first half, Madison scored another goal in added time to make it 2-0.
The final from Madison.

4-1 | #MADvGVL pic.twitter.com/P7z7W1Lfqm

— Greenville Triumph SC (@GVLTriumph) April 16, 2023

Fired up at the start of the second period, Greenville finally pushed Madison's defense, rattling off multiple shots of their own. Three minutes into the half, Noah Pilato turned a defender and sent the ball into the upper 90 of Madison's net for a highlight-reel goal. Just as Greenville cut the flamingos lead in half, though, they dampened their momentum when Triumph defender, Daniel Wu deflected the ball into Greenville's net for an own goal. Minutes later, Greenville was awarded a penalty kick, only to have it blocked and immediately returned by Madison down the field for a counterattack goal. At the 67th minute, Greenville's frustrations boiled over as scuffle between teams broke out that resulted in a yellow card for Aaron Walker and Christian Chaney, and a straight red for Madison's Jayden Onen. Despite going down to ten men, Forward was able to keep to the advantage and manage the match to secure a 4-1 victory over Greenville.
It's time to get 🔙 in Paladin Stadium!

There's a home match this week versus Fuego FC at 7:30 PM, purchase your tickets now!
🎟: https://t.co/es3HEr8RvD pic.twitter.com/g3fVG0SIxP

— Greenville Triumph SC (@GVLTriumph) April 16, 2023

The Greenville Triumph will return to Paladin Stadium this Wednesday, April 19th for its second home match. Tickets and specialty bundles are on sale now!
Credit: khumphrey
April 15, 2023 9:42 pm Greenvilletriumph.com