WrestleMania Goes Hollywood Night 1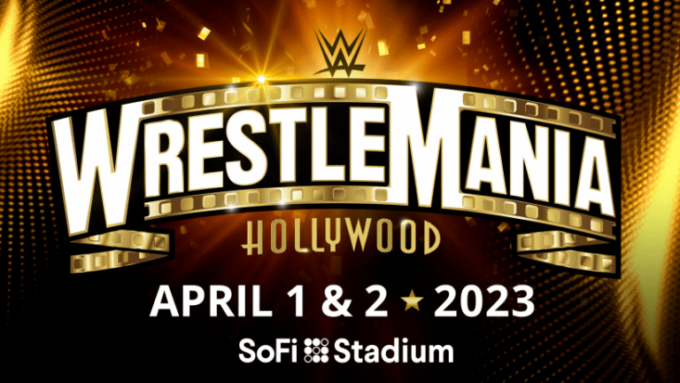 Read Time:
4 Minute, 1 Second
We start off the night with Theory vs. Cena in what seem to think is a possible steppingstone for Theory or Cena gets a short-lived title run. Austin Theory was pretty much dominate the whole match, but of course the Ref gets bumped, and Cena had Austin tapping out to the STF, but Cena gets up to get the ref up, and Theory low blows Cena which leads to an ATL, and Theory wins the opening match of the night.
Vintage @JohnCena submits #USChampion @_Theory1 at #WrestleMania … but the referee didn't see it! pic.twitter.com/cszCK5opBv

— WWE (@WWE) April 2, 2023

Next up is the 8man tag team match with the Street Profits vs Stroman and Ricochet vs. Viking Raiders vs. The Acadamy. I thought this match would be a squash but they are trying to steal the show with some unreal moves and slams. The street profits win the match after a huge number of great moves by all the teams involved.
What a match!@AngeloDawkins & @MontezFordWWE are victorious in the Men's #WrestleMania Showcase Fatal 4-Way Tag Team Match! pic.twitter.com/bwjMAthLZ8

— WWE (@WWE) April 2, 2023

Next up its Logan Paul facing Seth Freakin Rollins in a huge high stakes match. These two guys put on a great show, great back and forth action and near falls. The crowd with chants of this is awesome ring out, JSA interferes dressed up as a PRIME energy drink costume. Seth gets out of that, Paul does not 1 but two frog splashes, one through the Spanish announce table which missed, next one on point, but Rollins kicks out and gets Paul with the stomp and wins the match.
#WrestleMania Redemption

Way to go, @WWERollins! pic.twitter.com/uoaNiE4wts

— WWE (@WWE) April 2, 2023

The Ladies 6 ladies tag is next with Damage Control vs Trish and the Ladies Tag Champions Lita and Lynch. This match also is really bringing their A game tonight, lots of great moves, 6 ladies laid out outside ring, and all make it back in the ring before the 10 count. They clear things up but just leads to a 6 lady Texas tornado match basically. Becky gets a pin over Bailey and this match brings the gusto. What a great night so far, all matches so far have been great.
#DamageCTRL is relentless at #WrestleMania! pic.twitter.com/DmXEsu5ySL

— WWE (@WWE) April 2, 2023

Its now Father vs. son as Rey Mysterio Jr. vs Dominik Mysterio and this is personal.
.@SnoopDogg & @reymysterio are rolling into #WrestleMania! pic.twitter.com/A8ClLlORPp

— WWE (@WWE) April 2, 2023

Rey comes in to a tribute to Eddie and also flanked by Snoop Dog. This match becomes a bitter fight quickly as both guys really bring a great match with near falls galore and Dom bringing his sister and mom into the match to get a hit on his dad. The Judgement Day comes down and gets involved to try and steal the match, but the LWO team members race down and it's a battle with all players in the game, but Dom gets distracted by Bad Bunny at ringside, Rey is able to 619 then a frog splash to get the victory over his son. A great match, I was wrong thinking Rey would take the fall for his son, but it looks like Dom wanted his dad in real life to go out in a blaze of glory.
MYSTERIO MANIA!

What a #WrestleMania weekend for @reymysterio! pic.twitter.com/7xiT3yCrMJ

— WWE (@WWE) April 2, 2023

We now enter the final match of night one, and Ripley enter the ring first, and Flair enters as always as the queen of the ring. The ladies match brings it and as usual with the Flair matches, she brings it and Ripley does the same. Both breaking out of each other's finishers and making unreal moves. Riptide from the top rope and Ripley is the Smackdowns Women's Champion. What a night, what a way to end with the Smackdown Ladies championship changing hands. Congrats to WWE for a great night one, now can night to meet the expectations.
What a counter by @RheaRipley_WWE in this #SmackDown #WomensTitle Match! 😲😲😲😲😲#WrestleMania pic.twitter.com/RXkrjnvKUi

— WWE (@WWE) April 2, 2023

Yet we still have one more match to go right? well it ended up being two as Miz and Snoop Dog came back out, the Dogg asked the crowd should Miz fight and Miz agreed, but out of nowhere Pat McAfee comes down and accepts Miz's challenge from the past and takes the win after a little help from George Kittle who was sitting at ringside. Great cool down to the last match.
❤️❤️❤️❤️❤️❤️❤️@SamiZayn and @FightOwensFight are here at #WrestleMania and READY! pic.twitter.com/3YQSpljCXO

— WWE (@WWE) April 2, 2023

This was a great end to one storyline and creation of another. The Bloodline would put its Tag Team Gold on the line as the USOS would face Kevin Owens and Sammy Zayn. These gentlemen really put another great performance and left the crowd going home happy as Zayn and Owens won the Unified Tag Titles ending the USOs record breaking title holder's streak. Tomorrow night should be a great night if it matches what was done here on night one.
THEY DID IT!@FightOwensFight and @SamiZayn are your NEW Undisputed WWE Tag Team Champions at #WrestleMania! pic.twitter.com/CXzg5KYDcc

— WWE (@WWE) April 2, 2023