WrestleMania Goes Hollywood Predictions Night 1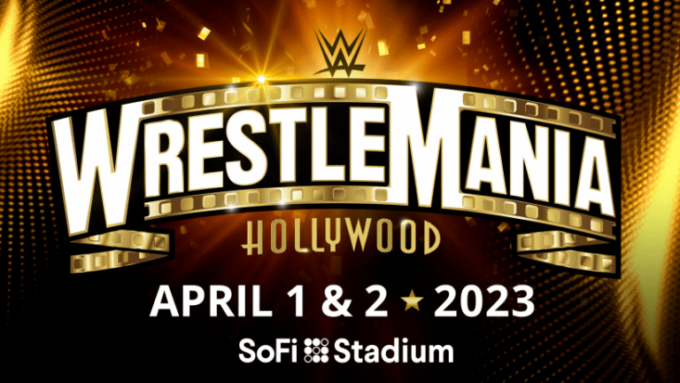 Read Time:
3 Minute, 37 Second
Well tonight is the night WWE fans have been waiting for as WrestleMania goes Hollywood is upon us, so I wanted to give a few predictions on who I think wins and surprises that may happen.
WrestleMania 39 en chiffres dans cette vidéo racontée en français! 🇫🇷 #WrestleMania pic.twitter.com/TWB3EZ5r35

— WWE France (@WWEFrance) March 29, 2023

To date, the only match that has been officially announced in a specific spot is the Austin Theory vs. John Cena match which is pegged to kick off night one. Following that, WWE has also confirmed that Charlotte Flair vs. Rhea Ripley, Dominik Mysterio vs. Rey Mysterio, The Usos vs. Sami Zayn and Kevin Owens, Becky Lynch, Lita and Trish Stratus vs. Damage CTRL, Seth Rollins vs. Logan Paul, and the Men's Fatal Four-Way Tag Match will also take place on night one. Rumors are that Ripley vs Flair will close the first night.
#WrestleMania Saturday kicks off with the #USTitle on the line as @_Theory1 defends against @JohnCena! pic.twitter.com/hXcJJ9dHgr

— WWE WrestleMania (@WrestleMania) March 28, 2023

Prediction 1: Cena will beat Theory to become the US Champ in night 1, only to either be forced to defend it on night two in a rematch vs. Theory which he will lose, or do a open Challenge on Raw Monday and lose in it. Either way if he wins it will be a short run as Champion. Theory will either regain it by Monday, or down the road.
You wanted the match, @DomMysterio35? You got it at #WrestleMania! pic.twitter.com/yrNBWfL4oO

— WWE WrestleMania (@WrestleMania) March 28, 2023

Prediction 2: Dominik will defeat his father Rey, I assume with interference, but its Rey's last match more than likely so I know he is willing to give his son a WrestleMania moment. Not a huge fan of Dom, but he is getting a lot of heat which means money to the WWE.
WWE Women's Tag Team Champions @BeckyLynchWWE & @AmyDumas team up with @trishstratuscom to take on the ruthless trio of #DamageCTRL at #WrestleMania! pic.twitter.com/IefzuED0Ls

— WWE WrestleMania (@WrestleMania) March 28, 2023

Prediction 3: The Ladies 6 Tag Match is sure to be interesting, I see Trish possibly turning on her Tag Champ friends, which leads to Lita and Lynch losing the titles soon enough, to may even lead to a Lita vs. Trish Summer Slam match. I could be very wrong on this one, just seems like they won't have a long title run either way. Damage Control is the future, regardless of if they win the titles or another team, Lynch and Lita will be short lived.
Will we have NEW Tag Team Champions after #WrestleMania or will @WWEUsos continue to make history and break records? pic.twitter.com/TmfayLCOQj

— WWE WrestleMania (@WrestleMania) March 28, 2023

Prediction 4: Unified Tag Titles on the line and we will see new Champions, as the USO's storyline will get interesting, and the Owens and Zayn team which is red hot begins. Its been a hot minute since Ownes and Zayn have held Gold, that changes at WrestleMania. Both are getting such a great following, WWE will cash that in here, plus the Bloodline story looks to be showing a crack in the armor and I could see this being the first in the domino effect.
Get ready for the #WrestleMania Showcase Fatal 4-Way Tag Team Match!

Which team are you rolling with? pic.twitter.com/7TQ3OELcFU

— WWE WrestleMania (@WrestleMania) March 20, 2023

Prediction 5: Men's 8-way Tag Match seems like a time killer, and way to get everyone a paycheck. I think either the Viking Raiders or Strowman & Richoit win this match, I believe the Alpha Males will break up officially at Mania and the Street Profits might also as Ford needs to be a Single's star and Dawkins and Omas might be a possible team, or Dawkins in the new HURT foundation anyway.
Will it be a happy birthday for @LoganPaul on #WrestleMania Saturday or can @WWERollins sing the song of victory? pic.twitter.com/oHIgpYDxXA

— WWE WrestleMania (@WrestleMania) March 28, 2023

Prediction 6: Seth Rollins vs. Logan Paul, I feel could steal the show, WWE owes Rollins for his recent losing streak in big events, and it's time to give him a win, plus Paul is part time and doesn't mind losing to a big payday. They will make sure both performers get the respect and I just see Seth finally getting it done and get him ready to face Cody Rhodes at Summer Slam…. Opps gave something away
3️⃣ years in the making.#SmackDown Women's Champion @MsCharlotteWWE defends against @RheaRipley_WWE at #WrestleMania. pic.twitter.com/JDEVOKGGUx

— WWE WrestleMania (@WrestleMania) March 28, 2023

Prediction 7: Well, what could be the Main event on night 1 is the Women's World Title Match between Flair and Ripley. This one will be a great match, as both Ladies can bring it like Flair and Lynch did so many times. I see Flair coming out of this with the win, and Ripley actually taking on the Womens Champion on Raw but we will see. Thats is the night one prediction, let's see where I stand tomorrow before night two.