WrestleMania Goes Hollywood This Weekend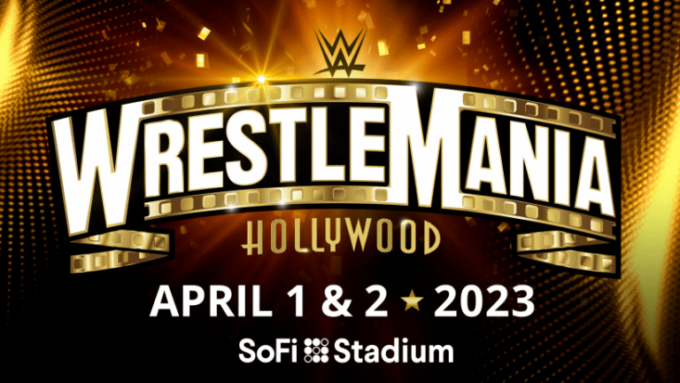 Read Time:
12 Minute, 29 Second
WrestleMania goes Hollywood this weekend as we approach the 2023 version of the biggest
show of them all. With a mixture of great storytelling and great talent in the ring, let's breakdown all
the matches announced as of the time of writing this article.
Are You As Excited As I Am For WrestleMania Goes Hollywood? WOOOOO! #WrestleMania39 pic.twitter.com/EiMhFCh68N

— Ric Flair® (@RicFlairNatrBoy) March 26, 2023

You may not be able to see him, but the Legend himself returns to challenge for the United
States Championship as John Cena faces Austin Theory. The storytelling on this one may not be as
prominent on screen lately as some others but these two have been teasing/wanting a match with each
other for over a year now. As far as results, the question would be "Is John Cena back for a run or for a
WrestleMania bump?". With no inside knowledge it appears to me that John Cena is coming back to
make a good payday and to put over a young talent who perhaps a year ago wasn't ready for John
Cena. That being said, Austin Theory in recent months has progressed leaps and bounds on the mic as
well as sharpening himself in the ring after already being a very athletic and capable wrestler. I expect
Theory to retain his title with some heel heat attached, perhaps pinning John with his own finisher,
retain by DQ, or some other form of heat.
I kick off MY SHOW🚀 #atowndown

JUST ANNOUNCED: @_Theory1 vs. @JohnCena for the United States Championship will kick off #WrestleMania  Saturday! 🇺🇸 pic.twitter.com/nZifN1aHdG

— Austin Theory (@_Theory1) March 25, 2023

Next let's take a look at the WrestleMania special, the celebrity booking. This year features Seth
Rollins and Logan Paul. These two have been feuding on screen for a while now, with Logan making
appearances to keep the feud alive leading into WrestleMania. I suspect this match is going to have a
high-spot that people will talk about for some time. Logan Paul has impressed in the ring with athletic
high spots that truly are a marvel. That being said, Logan Paul does not understand story telling in
between the bells and relies on the wrestler to carry him. Seth is the ultimate professional and I know
he will do everything he can to make Logan Paul look good. Neither guy "needs the win" while both
could "survive the loss". I predict Logan Paul to get the pin with some outside interference from his
buddies after a relatively short match of Seth helping him look good in his very rehearsed, high spots
match.
Moving graphics for Seth Rollins vs. Logan Paul. #WrestleMania 🔥🔥🔥 pic.twitter.com/6g6qsjgSyC

— Wrestle Features (@WrestleFeatures) March 28, 2023

Next up is a 6 person tag match featuring some returning Legends. Trish Stratus and Lita return
to team up with Becky Lynch to take on Damage CTRL. As with most things wrestling, this is just an
opinion, but I peg this to be the worst booked match of the 2 night event. They have recently dropped
the women's tag titles to Lita and Becky Lynch to not have them be defended on the biggest show of
them all? If a championship if not relevant enough to be defended at a 2 night event then dissolve the
division. I understand bringing the names back for a pop but there had to be a better way. I don't
suspect anything in the actual match that is going to blow anyone away and expect a very average
match. You may see Lita do a moonsault but I hope Iyo Sky can come up with something to spice up
this match as I see her as the most skilled of the bunch as well as most extreme/hardcore if you have
seen her around, especially before WWE. I am feeling confident on predictions here. I am having a
hard time coming up with a reason that both the returning Legends as well as the tag team champions
would take a loss, so hence my prediction of Trish, Lita, and Becky.
Damage CTRL vs. Becky Lynch, Lita & Trish Stratus at WrestleMania feels like a huge win for everyone involved.

This is so cool for all of them. pic.twitter.com/UOQ3MAVq0r

— Pro Wrestling Finesse (@ProWFinesse) March 8, 2023

Moving on to the heavyweights with Brock Lesnar vs Omos. I'm sorry to say but this has the
potential to be the worst match of the night. Brock Lesnar is a freak athlete but has shown in WWE
that he is not interested in expending his move-set in anyway. That being said I think he is going to be
called on to carry this match as I have a couple issues or concerns with Omos in this spot. Firstly being
he is relatively green and it is apparent with both his mic work and in ring abilities. He reminds me of
The Great Khali in his later years in the ring, which is not a compliment. There is a slight chance that
Brock Lesnar gets paid to put over Omos as a new beast, but I really am not going to suggest it. Place
my bet on the beast.
Yes, this is a very real graphic & it's happening.

Brock Lesnar v Omos at #WrestleMania 39 is officially set. pic.twitter.com/GiNWFM5IN7

— Wrestle Ops (@WrestleOps) February 28, 2023

Moving on to another championship match where Bianca Belair defends her Raw Women's
Championship against Asuka. These two are capable of putting on an entertaining match as clearly a
part of the upper echelon of the WWE women's roster. I believe Belair has had her push for a while
now and WWE are circling back around to a new Raw champion. Asuka has revamped her gimmick
and appearance while remaining as quick and sharp as ever. Nobody is ready for Asuka. I predict an
above average match with a couple good spots leading to Asuka spitting the mist and getting the pin.
MVP: The #WrestleMania match that I am most looking forward to is Bianca Belair vs Asuka https://t.co/HfDFkRfNF4 #WWE pic.twitter.com/IpqToDVvLu

— Wrestling News (@WrestlingNewsCo) March 24, 2023

From one women's title to another let's discuss Charlotte Flair vs Rhea Ripley. These 2 also
have the abilities to put on a great match. This story-line is all about the rise of Rhea Ripley and just
how over she has gotten as of late. She has carried the story-line with Dominik Mysterio and fit in well
with Judgment Day. Look for Charlotte to still put on a show. I suspect we will get that moonsault off
the top rope to the outside, but will she bring us something new this year? Place my bet on Rhea
Ripley reversing into the riptide for the victory and second new woman's champion of the weekend.
Official Moving Graphic Of Charlotte Flair Vs Rhea Ripley #WrestleMania pic.twitter.com/hAM4ma8dvy

— Nightmare Undisputed_Szn❤️Fan Account (@Shreyanshu_5) March 26, 2023

In perhaps the biggest story-line of WrestleMania this year, Roman Reigns will defend his
Undisputed WWE Universal Championship against Cody Rhodes. The Bloodline seem to be whole
again just in time for WrestleMania, so what part will they play in this one? It is safe to assume we will
get some slow points as Roman seems to put on very slow matches focused on his facial expressions
and the story-line, while not being focused so much high paced action. Looking at his opponent, the
story seems to good to be true. Leaving his former company in AEW, to very quickly be out with the
chest injury we all saw in his match against Seth Rollins, then to return and win a match to headline
WrestleMania. At first the story seems to lead you to the ending, the babyface return going over at
WrestleMania while taking down The Bloodline. Let's pump the breaks a moment. What did Cody do
to deserve this? What story had he really told since returning to WWE? The Bloodline and Roman
Reigns have been on top for years and Cody really has not done much outside 2 matches since his
return. Even in those matches he far from impressed. His match against Seth Rollins was one of the
toughest displays I have seen from a man but the match itself was understandingly very average. Cody
has not done anything in his career that would make me think he can take down the incredible run of
Roman Reigns. Therefore, my official pick for this article is Roman Reigns with outside assistance
getting the victory in a slow match where the attention will not necessarily be on the move sets.
Cody Rhodes vs. Roman Reigns with song "Hollywood" by Collective Soul pic.twitter.com/diTDNX8MYO

— Wrestling News (@WrestlingNewsCo) March 25, 2023

Next up is my prediction for match of the weekend when Gunther defends his Intercontinental
Chelsea Green and Sonya Deville take the final spot in the women's fatal four-way tag match at 'WrestleMania Showcase' http://dlvr.it/SldPRh #WWE #WWEDivas
Championship in a triple threat against Sheamus and Drew McIntyre. If you are into old school stiff
style matches like me then this one should be on your radar. The splitting of Sheamus and Drew
has happened on TV over the past few weeks, accompanied with both of them getting a pin at the same
time in a 5-man match that led to them having a 1 on 1 match for this WrestleMania match. Imperium
ruined the match leading to management booking this triple threat. In a match where all 3 are sure to
leave it all in the ring and sure to leave red on the chests of their opponents, I am going with Sheamus
pinning Gunther. This could help lead into a rivalry with Drew McIntyre with the former friend and
you didn't beat/pin me angle. This would also complete the gauntlet for Sheamus and make him an
Ultimate Grand Slam Champion after winning all the gold WWE has to offer.
Drew McIntyre, Sheamus and Gunther are going to make WrestleMania a Fight Night 🔥🔥🔥

Scottish Warrior against Celtic Warrior against Ring General 💪💪💪#SmackDown #wwe pic.twitter.com/Rs3qfa9wm2

— Worldwide Wrestling Universe (@Wrestle_The_One) March 25, 2023

Next up is a match I personally have mixed feelings about. That would be Hell in a Cell with
Edge taking on Finn Balor and the returning demon. For me it boils down to this, is Edge both capable.
and willing to keep up and go to points that Finn Balor will certainly go to in one of the best matches
in wrestling history in Hell in a Cell. Most of Edge's matches as of recent vintage have not been fast
paced, exciting, or anything that would lead me to believe he is willing to go to extremes like Edge of
young. That being said we will have to look for spot of the match to come from Finn Balor I imagine,
perhaps a double stomp off the top. Will the returning demon get the victory or will the Hall of Famer
put the demon to bed? I predict a good weekend for Judgment Day and a vacation for Edge. Give me
Finn Balor for the win.
Rated R Superstar @EdgeRatedR V/s Prince @FinnBalor inside #HellInACell 😈
Shouldn't this match be the main event of Night One?
Will Finn Balor bring his #Demon persona?
Shall Edge finally get his hands of the #JudgementDay?#Edge #FinnBalor#WrestleMania pic.twitter.com/9sdf2KreWZ

— Apurbo Das (@ApurboD69903535) March 17, 2023

Next up is the match in which perhaps the Women's Tag Team Champion's should be in, its a
fatal four-way tag team match. It's Liv Morgan and Raquel Rodriquez vs Natalya and Shotzi vs
Rhonda Rousey and Shayna Baszler vs Chelsea Green and Sonya Deville. I am going to be blunt about
this one when I say this match has pre-show written all over it. I don't see anybody doing anything that
you don't already see them do on free television. There is no real story-line to assist in the average skill
pool, other than the fact it's a Women's WrestleMania Showcase match as they have tried to market it.
My predictions are come down to who I think is the fan favorite in Liv Morgan, or my personal
favorite and most talented person in the match in Shayna Baszler. I have let my Baszler bias get in the
way in the past, so give me Liv Morgan getting the pin.
Chelsea Green and Sonya Deville take the final spot in the women's fatal four-way tag match at 'WrestleMania Showcase' https://t.co/ZAho0EnGRX #WWE #WWEDivas

— FirstSportz (@sportzfirst1) March 28, 2023

The men also get a non-title match to showcase the tag team division. Braun Strowman and
Ricochet vs. The Street Profits (Angelo Dawkins and Montez Ford) vs. Alpha Academy (Chad Gable
and Otis) vs. The Viking Raiders (Erik and Ivar). This match may also have very little story behind it
but I am much more interested in the in-ring talent/entertainment value in this match-up. Perhaps the
best high-flyer in the company, Ricochet is really starting to click with fairly new tag team partner
Braun Strowman, and with his strength, they are pulling off some cool tandem stuff. The Street Profits
have been over with WWE fans for some time now and it's no wonder why. It's clear they have been in
the gym working on themselves (and that's saying something considering some of the amazing feats of
athleticism they have shown in the past). They have been entertaining on the mic for years and may be
the fan favorites in this match. Alpa Academy may be the clear underdogs in this match-up, but watch
out for Chad Cable in any match to put on a show. He is one of the more underrated superstars of the
current era. The Viking Raiders are at very worst, legends on the indie scene and big favorites to win
There it is friends. Rey Mysterio vs Dominik Mysterio is official for WWE WrestleMania 39. #Smackdown
this matchup. With the recently revamped gimmick and being well overdue for some spotlight, my
vote goes to the Viking Raiders.
#WWE has revealed the teams entered into the men's Showcase Fatal Four-way tag team match at #WrestleMania 39. Braun Strowman & Ricochet, The Viking Raiders, The Street Profits, and Alpha Academy will be the four teams participating in the match. Men's and women's fatal… pic.twitter.com/nzG2q8pU3N

— WWE & AEW Rumors (@WWEAEWRumors) March 20, 2023

The Bloodline featured in another match-up where The Uso's will be defending their
Undisputed WWE Tag Team Championship, against longtime friends who have finally buried the
hatchet in an attempt to win the belts, Kevin Owens and Sami Zayn. The Uso's have got to be on the
Mount Rushmore of tag teams and are clearly the flash and talent of The Bloodline. That being said,
Sami was just on the role of his life and Kevin Owens is one of the biggest names in the game. People
really wanted to see Sami beat Roman Reigns and win a strap. I think this is a case where WWE is
going to give the people what they want in a babyface payoff. I expect an above average match with
Sami Zayn getting the pin and him and his friend sharing an emotional WrestleMania moment.
I can't wait for this cinematic masterpiece at #WrestleMania

The Usos vs Sami Zayn & Kevin Owens for the Undisputed Tag Team Championships #SmackDown pic.twitter.com/ZJsW3gYIUr

— Jay Carson (@FreeWrestleMind) March 18, 2023

Last up on the subject to change card is a family matter, that is, Rey Mysterio vs Dominik.
Mysterio. It's very apparent that Dominik will never be the in-ring talent his father still is to this day.
I'm not sure where the blame is supposed to be with his lackluster mic work as well. Is it the bad jail
gimmick or is it a lack of charisma? I don't mean to bash the man but to report facts, he is not a
superstar caliber talent. I expect Rey to carry this match and a few awkward spots. I said it above, this
is going to be a good weekend for Judgment Day and this continues here with my prediction of Rey
putting his son over at WrestleMania the same year he gets inducted into the Hall of Fame.
There it is friends. Rey Mysterio vs Dominik Mysterio is official for WWE Wrestlemania 39. #Smackdown pic.twitter.com/zq5SxJpVwa

— Denise 'Hollywood' Salcedo (@_denisesalcedo) March 25, 2023

WrestleMania appears to be trying to please everyone. Need a celebrity to tune in? Need a
dangerous match? Good storytelling? What about stiff old school barn burners? WrestleMania goes.
Hollywood is this weekend, and I can't wait.
Howe Fresh of The Real Fresh Channel