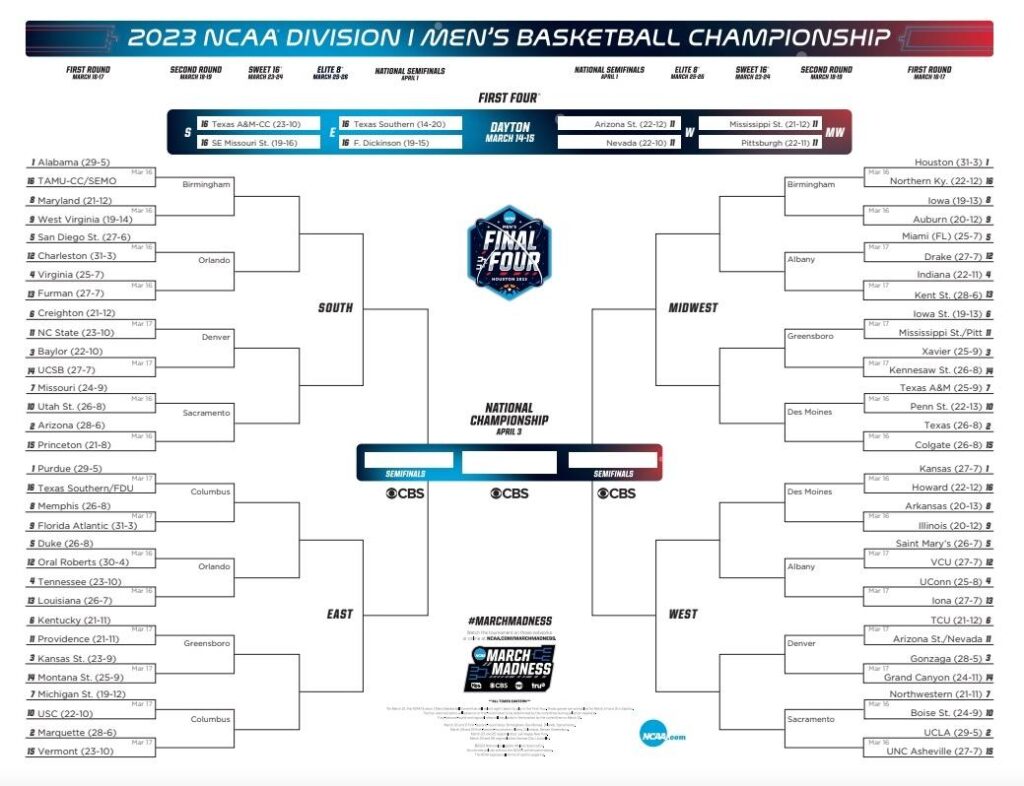 Read Time:
2 Minute, 9 Second
If you are a huge college basketball fan like I am, yesterday was Christmas for you too. Selection Sunday is the day the NCAA Tournament brackets are revealed! March Madness may be the biggest spectacle in all of sports, the best sports climax of them all. All season long we as media and fans gauged teams and analyze what seed line teams may be, if they will get in, or what their metrics are. On Selection Sunday at 6pm EST we all find out together exactly what the brackets look like each year. Here is this years brackets:
Join College SportsCast NCAA Tournament challenge. Fill out your bracket & let's compete against each other! @CollegeSportsC5 @drinklocalbham @JasonJeharrison @DafanboysC @DaFanboys @therealfreshcha @Primetime2121 @Nathan_Erbach @JustinGrice1 @jdilla7791

— Brad Harvey (@BradCSCast) March 13, 2023

The number one seeds were as expected with Alabama the number one overall and Houston, Kansas and Purdue joining them. Now the fun begins! Tuesday and Wednesday nights in Dayton, Ohio the First Four play in games will kick off the 2023 NCAA Tournament. The Final Four is one of the most prestigious sports achievements in all of sports. This years Final Four is April 1st and 3rd in Houston, Texas with the NCAA Tournament Champion crowned Monday night April 3rd, 2023.
This year's tournament field includes:
8 – Big 10 teams
8 – SEC teams
7 – Big 12 teams
5 – ACC teams
5 – Big East teams
4 – PAC 12 teams
4 – MWC teams
2 – WCC teams
2 – AAC teams
And 23 single team automatic bid conference tournament winners.
College SportsCast published a new episode! @CollegeSportsC5 Check Us Out! Follow, like, share, & rate us! @drinklocalbham @jasonjeharrison #collegebasketball #CollegeFootball Presented by #DaFanBoys @DaFanboys https://t.co/I2fp6Pj6RH https://t.co/S9zUm7t8mx on #Podbean

— Brad Harvey (@BradCSCast) March 13, 2023

Will one of the last four in make the Sweet 16 again? Does a 12 seed take down a 5 seed like most years? Which top 1, 2 or 3 seed is going to be the first team to fall? How many Cinderella teams will we see make a run deep into the brackets? Which day of buzzer beating winning baskets will be the best? Who makes the Final Four? And who cuts down the nets to One Shinning Moment in Houston?
One thing we know for sure, the country and world will be watching! All eyes will be on the 68 teams selected to compete in the NCAA Tournament Championship. March Madness as it's affectionately called for its stunning upsets and buzzer beating last second winning shots. Fans and teams filled with the joy of winning and others left in stunning defeat. Will the #1 seed Kansas Jayhawks repeat as champions? Will the #1 seed Houston Cougars get to play and win a title in their home city? As the NCAA Tournament play begins, we will soon find out!
https://t.co/OpLlHhZdRhhttps://t.co/OMn5y3BLaghttps://t.co/fwLWGxX9Jthttps://t.co/QVR3F3xgVuhttps://t.co/OCDFXmVO2Rhttps://t.co/yFfO3uxNd6

— Brad Harvey (@BradCSCast) December 12, 2022