Greenville Triumph Holds Scrimmage with Charlotte Independence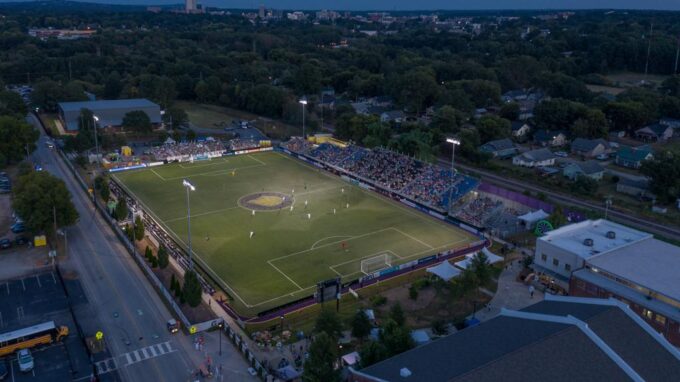 It was a great day for sports in Greenville, and the Triumph held a open scrimmage with their fellow USL League One member the Charlotte Independence. A great turn by fans ready to see their team on the field for the first time this year. Both teams gave a great effort, but Charlotte came out with a victory 1-0.
Our first friendly is underway, here is today's starting Ⅺ! ⬇️

Hale
Smith
Wu
Lee
Polak
Shaw
Coutinho
Boyce
Trialist
Labovitz
Gavilanes

— Greenville Triumph SC (@GVLTriumph) February 18, 2023

Both teams played a hard-fought match, the only goal scored was due to a misstep in the Triumph defense before the half. The teams played 3 30-minute seasons, giving all players a chance to get action in the game.
35 minutes left for Greenville even it up!

0-1 | #GVLvCLT pic.twitter.com/ChzojGOZSI

— Greenville Triumph SC (@GVLTriumph) February 18, 2023

The next game will be a closed-door scrimmage with Anderson University on 2/25, followed by another closed-door scrimmage with Atlanta United on 3/4.
Greenville Triumph Devin Boyce #soccer #Triumph #GreenvilleTriumph https://t.co/naU5oJyGL9 via @YouTube @JacobsTalk @GVLTriumph

— DaFanBoy JaY (@FaLcOn24729118) February 18, 2023

Here is two of Greenville Triumph's star players as we get you ready for the new season!
Greenville Triumph Evan Lee #soccer #Triumph #GreenvilleTriumph https://t.co/0a1VpjQ36j via @YouTube @JacobsTalk @GVLTriumph

— DaFanBoy JaY (@FaLcOn24729118) February 18, 2023